The Best Vineyard & Winery Tours in Minnesota!
Millner Heritage Winery
32025 MN Hwy 15
Kimball, MN 55353
320-398-2081

8/20/15
Good Morning:    9:00 am
     In short I start with hot news this week.  The International Cold Climate Wine Competition (ICCWC) was held on  Tuesday of this week at the Minnesota Arboretum.  We won 5 medals, one Gold and 4 Bronze with the gold also being rated as the "Best of Show" in the Specialty wine category.  The label that won as the best was  Müllner Nice, our ice-wine. This is a very big win, congratulation Jon.  Our bronze winners were Rona, Mein Onkel, Salier, and Schnickelfritz. Nice job Jon.  For all the results click on the logo below.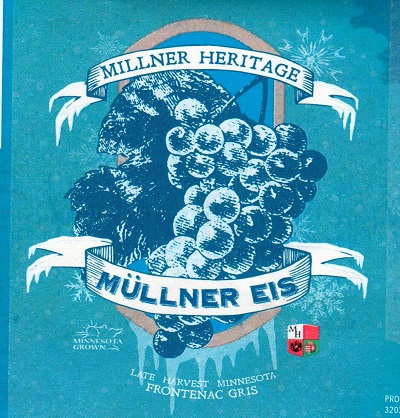 _________________________________________________
     Also this week I was able to assemble the flyer for our Grape Stomp.  We've changed the music format to Jazz, Country, and Classic Rock.  I'd call it as more upbeat music. Of   course we'll have grape stomping all day long both days.  It is titled as "The Rockin Stompin Grape Stomp!"
__________________________________________________________
     This Saturday looks to be a very busy day at the winery.  We start out with a  tour
bus at noon, then 1:30 and 3 pm tours, plus a bachelorette party at 5:30, and a 250 guest wedding starting at 4 pm and into the evening.  But I am told that when you are the CEO, you have to learn to delegate.  I will practice delegating this Saturday evening, it is also my 45th high school reunion at Pierz, MN.  I hope to leave the winery by 6 pm and hold up somewhere in Pierz that night.
____________________________________________________
   Don't miss that this event in also includes Grape Stomping!
Hungarian Harvest Festival
&
Grape Stomp
Saturday September 12th,  11 am to 8 pm
- Hungarian Dancing and Music
-Grape Stomping
-Games
-Kids Activities
-Photo Area with Costumes
-Delicious Hungarian Foods
-Also a Mustache Contest
________________________________________________________
Update:
The list is growing, Jon told me this week that it may be a record harvest.  I cross my fingers because I know that his is farming and the crop is't in until it is in.
Harvest  Parties!
     If you like a party, this is the time to sign up.  The list is growing, Jon told me we could have a record harvest this year.  
 If you'd like to be part of a harvest party follow the instructions below.  If this is new to you:
 1.Being a harvest volunteer means working about 4 hour in the vineyard cutting off clusters of grapes into pails, those pails then dump into bins right in the vineyard.
 2. We then haul the bins to the winery for processing.
  3. Usually we start about 8:30 in the morning  complete by 12:30.
  4. Then we bring in a very nice meal, all the wine you'd like to drink.
  5. Then send bottles of wine home with you.  I don't have specific date now, to register I need your name, a good phone number, days of the week when you can come, and how many people in your group.
Some of the harvest is on weekday and some on weekends, the variable is how the when the grapes are a peak flavor to harvest.  All of our contact is via phone voice, not texting, therefore a good phone number is important.
email to donmillner@gmail.com with the subject line "2015 Harvest Party!"

Free Music this Saturday and Sunday!
Playing both day from 2 - 5 pm will be:
   Ordinary Folk, 
Gary & Phyllis Jorgensen, Dave Rogers -
Playing Old Style Mountain Instruments.